Guestbook
Madison Mirror
Memory Lane
Madison Angels
Message Board
*Student Info.*
THE DEMISE OF
BLUE MAX

Yes he is gone. What once was a symbol of pride and honor to us, was thrown into the school dumpster like some piece of ordinary trash, by a school who no longer cared nor cherished what he stood for. Yes he was in need of some tender loving care, and we offered to pay to restore him on 2 different occasions, and each time we were turned down. They never took him to games anymore and they even stored him in the janitors closet, as if were something to be ashamed of.
Maybe the trashing of Blue Max was for the best, for today's James Madison is totally different from the Madison we knew. It has a new building hiding the old one, a new marque out front and maybe worst of all a new reputation that Blue Max would not have wanted to be a part of.
---
JAMES MADISON HIGH SCHOOL TURNS 50 IN 2015
AND IN THOSE YEARS MANY THINGS HAVE CHANGED. EVERYTHING FROM THE LOOK OF THE SCHOOL TO THE PASSING OF BLUE MAX. EVEN THE MARQUE IS NO LONGER THE SAME. I HAVE EVEN HEARD TALK ABOUT THE SCHOOL BEING CLOSED OR TURNED INTO A CHARTER SCHOOL. SO WE THOUGHT WE SHOULD CELEBRATE MADISON'S TURNING 50 WITH A YEAR LONG CELEBRATION BY HAVING AN EVENT OR MIXER EVERY MONTH LEADING UP TO AN EPIC 50TH PARTY IN AUGUST OF 2015.
J.M.H.S. 50th Koozie

CASINO TRIP
There are only 2 seats left on the bus for the Feb.7th Mixer to the Grand Coushatta Casino. To keep from over booking I have taken down the pay link. If you want to purchase 1 or both of the remaining tickets you will need to contact me directly by emailing me directly at madisonmixer@aol.com and I will send you the link to purchase your ticket by credit card. There are two seats left on the bus for the Feb.7thMixer trip to the Grand Coushatta Casino. If you are interested in booking one of those seats or both, You must contact me by email and I will give you the link to go online and purchase it. madisonmixer@aol.com



February 7th
Is our Senior Trip Mixer
and we are going to the Grand Coushatta Casino


"Senior Trip" to Coushatta Casino in Kinder, La.
Date: February 7th, 2015
Cost: $20 per person
If you do make a reservation, please attend as if we don't have enough people show up on our departure date, we loose the deposit, which is $400.
If less than 35 show up, bus leaves, we don't get deposit back AND we have to pay a $200 turn-around fee.
So PLEASE, if you put in your reservation, make sure you go !!!!

Parking : At Greenspoint Mall -- Southeast corner. That parking section borders I-45 to the west, Sam Houston Toll way to the south, & Greespoint Dr. on the east.
Park closest to the HPD store front.
We feel that would be the best and safest place for parking vehicles. We have sent a letter to the management of the mall stating that we would not hold the mall liable for anything that happens to our vehicles.
Parking will be approximately from 7 am to 8:30 pm
We have scheduled for casino bus to be there by 7:00 am and it will depart at 7:30.
There is a manifest we will fill on the bus.
We will have a sign-in sheet of our own.
When leaving casino, will have a roll call when boarding bus at approx. 4:45 pm, in case we need to go look for anyone.
Bus rules:
1. Must be 21 or over.
2. No alcohol on bus.
(Can bring ice chest with sodas, water, juices, snacks)
3. No smoking on bus.
Valid picture ID to get a Players Card -- which is free. (Must get a Players Card as this is how the bus co. knows how many are on bus.)
Depart Houston: 7:30 am.
3 hr. ride to Coushatta.
Approximate arrival at Coushatta: 10:30 am.
Spending approximately 7 hrs at casino (gambling, drinking, eating, etc.)
3 hr. ride back to Houston.
Depart Coushatta: 5 pm.
Approximate time returning to Houston: 8:30 pm.
---
THE HISTORY OF JAMES MADISON JR. SR. HIGH SCHOOL


This information comes to us from the schools website at http://hs.houstonisd.org/MadisonHS/SchoolInfo/history.htm

On September 8, 1965, James Madison Junior-Senior High School was opened for 2,003 students, 793 of whom were Senior High School Students. By the end of 1967, Madison Junior-Senior High had reached an enrollment peak of 2,700. In January of 1968 the Junior High School population was transferred to the newly-opened Dick Dowling Junior High School, and at that time James Madison Junior-Senior High School became James Madison Senior High School. In the fall of 1981, the student population of Madison was extended to include the ninth grade; the enrollment during that year reached a peak of 2,236.

In the fall of 1965, the faculty and students of Madison were welcomed to their beautiful new school by Principal Arthur D. Herring, Assistant Principal Dr. Dale H. Perkins, and Dean Rosamund Glosup. These administrators, along with the teachers, students, and members of the community, determined the policies for the new school. The Marlin was selected as the school mascot, the school colors chosen were blue, white, with a hint of red.

Mrs. Carrie R. McAfee assumed the the duties of principal in 1974.

Mrs. Ada T. Cooper was assigned as principal in 1989.

Mr. Warner D. Ervin assumed the duties of the principal in 1992.

Ms. Gloria J. Legington, was assigned the duties as principal in 2001.

Dr. Aubrey Todd III is currently the principal




Please Forward This Site On to All The Madison Alumni That You Are In Contact With, So They Too Can Enjoy It

This site is designed and brought to you by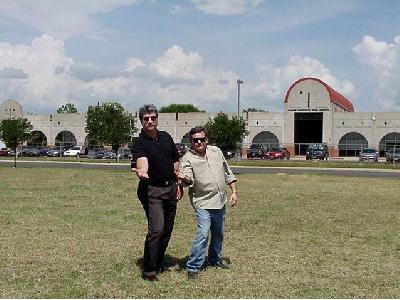 Bob Harrison'73 and Skippy Brown '71